This beautiful gray kitty has the softest, silkiest fur. She is curious and very cautious about people. She gets along great with cats, kittens, and dogs, both big and small. She has piercing yellow/green eyes and is developing a striped tail. We are looking for a lion-tamer who specializes in easily spooked kittens! With patience and time, Trin will definitely become a lifelong companion.
Olivia is a beautiful gray female kitten. Look at those beautiful eyes! As with all our kittens, before she goes home with you, she is spayed, has a microchip, and all current shots. The adoption fee for Olivia is $85. Olivia is living with one of our wonderful foster heroes, playing and having fun every day, getting love and attention so she will be the best possible pet for your family.
Would you like to meet her? Great! You can send us an email to Rescue@AnthemPets.org or call or send a text to 480-287-3542.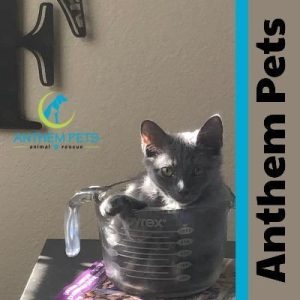 Stay up to date with Anthem Pets by following us on social:
Facebook @Anthempetsaz
Instagram @anthempets
YouTube @Anthem Pets Animal Rescue
Twitter @AnthemPetsAZ