Your precious fur babies are covered in fur. But that does not mean they do well in harsh winters? For
those of us who live in the Valley of the Sun, this will only be an issue when we head up North or to
relatives with cold weather. So, remember your pet in these conditions.
If your pooch loves to romp in the backyard or your feline prefers to while away in a sunny spot, they
might not be too equipped to fight harsh weather conditions when the mercury dips. Here are a few tips
for pet owners during cold winter months to ensure the safety of your furry buddy from the cold
weather.
Keeping Them Warm: Is Fur Flawless
If you consider your four-legged buddy's plush coat as a perfect insulator, you might be seriously wrong,
as winters can get extremely harsh and the fur cannot protect them fully in frigid temperatures.
Exposure to winter's harsh conditions can cause dry, itchy skin and chapped paws. Besides, winter walks
can become dangerous if your pet is used to walking with you and licking his bare paws.
Walking blues in winters
During the cold season, chemicals from ice-melting agents can stick to bare paws and become hazardous
to the health of a pet. One of the best tips for pet owners during cold winter months is to keep your
home humidified all the time during winters. Towel-dry your furry friend immediately when he enters
home. Remove any snowballs from your dog's footpads and pay attention to his feet and toes.
Check the paws
During long walks, you want to clean off your fur baby's paws with a towel. Upon returning home, wash
and pat dry his feet and stomach to clean away salt, chemicals, toxins, and salt. Keep your eyes wide
open to check for ice accumulation and redness in toes, cracks in paw pads or any other signs of cold-
weather injury.
Better still, you may want to massage petroleum jelly into paw pads before you take your furry friend
out for a walk. This might add a layer of protection against salt and chemical agents. You may even want
to opt for booties for more coverage.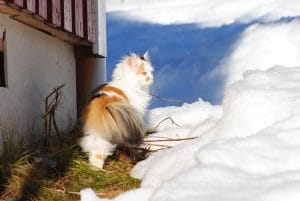 Shelter
When you and family stay indoors on harsh winter days, your pets need the same kind of treatment. Do
not leave them outdoors under any conditions, especially when the temperature goes down below sub-
normal. If they are happy to be out, better to take them outdoors for short periods for walks and
exercise. A sweater or coat is the best option to keep it warm outdoors.
Better still, try to keep them entertained and engaged indoors so they do not crave for outdoors when
the temperature drops.
Provide them with a dry, draft-free shelter where they can relax and feel the warmth of their own body
heat. Cover the floor with cedar shavings or straw. The doorway should be waterproof.
Keep them full

If your pet is used to spending a lot of time outdoors, then make it a point to offer them more food in
the cold season. Pets burn extra energy in order to stay warm in freezing temperatures. Feeding them
extra will surely help keep them warm. Also, check his water dish regularly to ensure that the water is
not frozen. Avoid using metal utensils in winters as the pet's tongue might stick on icy cold water or
food bowls.
Prevent poisoning

One of the most important tips for pet owners during cold winter months is to clean up any antifreeze
spills immediately. Remember, antifreeze may taste sweet to pets but it can be deadly. You may
consider using products with propylene glycol in the place of ethylene glycol.
These tips for pet owners during cold winter months should come in handy when the cold season strikes
and temperatures drop.