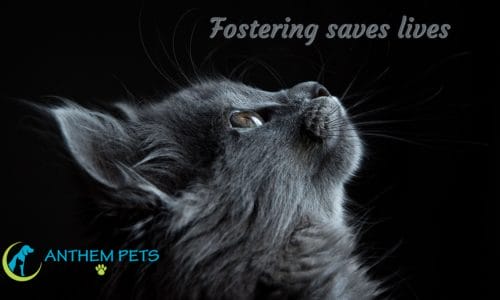 An Important Update: FOSTERING during KITTEN SEASON
Kitten season is here, and we URGENTLY need fosters for moms with kittens, pregnant moms, litters of kittens and neonatal babies. Neonatal kittens are newborn to 4 weeks of age, and caring for them can be rewarding, but also a 24-hour job. There is a reason that they are known as "Bottle Babies", since they must be fed every 2 – 6 hours depending on their age. They must also be kept warm and dry, and this level of care takes enormous dedication.
If you love kittens and have time, patience and compassion please consider fostering. You will receive instruction, continuing support and be provided with all supplies. You may be asked to take them to the vet, but their veterinary care is paid by our generous donors.
If you have questions or can foster this kitten season. please text or call 480-287-3542 or email us ASAP at Rescue@AnthemPets.org. Consider joining our Volunteer & Foster Facebook Group to see our real time foster needs. Thank you!
* Now, more about FOSTERING! *
Can you love and nurture a pet until we find it a forever home? Fosters, along with Volunteers, are the reason why our rescue has been able to save thousands of pets since 2005.
Foster families provide temporary care for adult cats, kittens, adult dogs and puppies. Some animals need as little as a day or two in your home, while others may need care for an extended period of time. Your help as a foster is essential to our success. By offering your time, love, energy and home to an animal in need, you will save their life and prepare them for adoption into a permanent home. Anthem Pets does not have a facility and we rely on foster families to care for animals that enter our system. We are always looking for more foster homes – our demand is growing every day! Check out our helpful Foster FAQs below and read more at our Anthem Pets Foster Heros page.
If you would like to join this group of animal lovers or if you need more information, please contact us in one of these ways: send us an email at Rescue@AnthemPets.org, text 480-287-3542 or fill out a Foster Application.
A great resource is our private Facebook group, Anthem Pets Volunteers & Fosters where you can keep up with our rescue efforts. If you see a pet you want to foster comment on the Facebook post or send a direct message to the group. 
Interested in volunteering with Anthem Pets? Please click here for information.
FOSTER FAQ's
❤️ Will I be driving around a lot?
That really depends. You are responsible for driving your foster to their vet appointments, and to adoption events. If you are fostering a new puppy or kitten, there may be three or four vet visits for shots and then surgery. If you have an older pet, there may be only one vet visit. We highly recommend that you do have access to transportation. If there is an emergency and you must get your foster medical care, you have to be able to transport them.
❤️ What expenses do I pay?
Anthem Pets does its best to provide you with food when you first start fostering with us. Sometimes we don't have what you need, or we don't have a volunteer available to get it to you. We can either order it to be delivered to you or you can purchase it and we will reimburse you (usually through PayPal). The costs we pay are for the food, any vet visits and medication, any special needs like medicated shampoos. We have items that have been donated that we can also get to you, like toys, scratching posts, litter boxes, kennels, bowls and misc. other "non-essential" items. The best idea is to communicate with your Anthem Pets contact before purchasing anything other than food or medicine. We have to be very cost conscious at all times and appreciate any items you can provide.
❤️ What if I fall in love and want to keep my foster?
That is the best question ever! The answer is easy. As soon as you have decided to keep the fostered pet, tell your contact at Anthem Pets. You will complete the adoption forms and pay the adoption fee and the pet is now yours. If your foster still needs to be spayed/neutered, that is okay too. We will still complete the vetting process and pay for everything. We pay for the shots, microchip, and surgery even if you adopt before it is completed.
❤️ How long will I have my foster pet?
The short answer is – until they are adopted. We would love our fosters to stay in one home and then go to their forever families. Puppies and kittens usually spend the shortest time in foster care because they are more in demand. Senior pets tend to stay the longest. If you are in a situation where you can only foster for a short time, please be sure to tell us ahead of time.
❤️ Can I foster if I already have pets?
Only you know the answer to that question. If your dog or cat gets along with other animals, then you can try it. If you already know they don't, then it's probably a good idea to pass. We can also use emergency fosters. In that case, you can keep a pet for a day or two in a separate room or area while we find a long-term foster. So, if you want to help out, that could be an option for you.
Thank you for making our rescue work possible!