Make a Difference. Save a Kitten.
No matter how small, every life counts.
It is Kitten Season and nearly every day Anthem Pets is contacted to save fragile kittens found in terrible situations. Your help is urgently needed, so please           "Shower the Kittens" with your time, your love and support to give them the best chance to survive.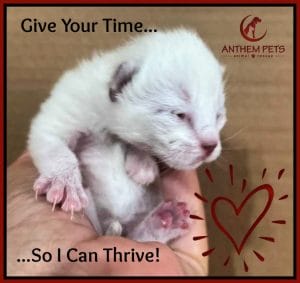 Anthem Pets does not have a shelter so we rely on a wonderful community of animal lovers to provide temporary homes for pets in need. Fosters are URGENTLY NEEDED to care for kittens, moms with kittens, pregnant moms, and neonatal babies.
Fosters receive instruction, continuing support and are provided with all supplies. Click to read more.
If you can foster or have questions, please call or text (480) 287-3542 or email Rescue@AnthemPets.org    today.
Your donation of essential supplies is a tremendous help! Supplies can be dropped off locally or ordered via our Amazon Wish List. Needed Items include:
Milk Replacement for Kittens                                   – Petlac or Nutri-Vet Powder
Nipples for Kitten Bottles
Terraymycin Antibiotic Ointment
Purina One Kitten Food Dry
Fancy Feast Kitten Food Wet
Microwaveable Pet Warming Pads
Non-Clumping Kitty Litter – Clay
Clumping Kitty Litter – All Types 
Please see our Amazon Wish List for more needed supplies.
LOCAL DROP OFF LOCATIONS:
Puff & Fluff at 39512 N. Daisy Mountain Dr., Suite #174 in Anthem, Monday – Saturday, from 8:00 am – 4:00 pm.
Daisy Mountain Vet at 39512 N. Daisy Mountain Dr., Suite #178 in Anthem, Monday – Friday from 7:30 am – 6:00 pm and Saturday from 9:00 am – 4:00 pm.
All kittens receive standard vet care, and some need extra help. At about 4 months old they're ready for adoption and will have been spayed or neutered, received vaccinations, and a microchip.
Below are just a few vet expenses for 1 kitten. When multiplied by 3-5 kittens per litter, you can see how urgently we need your help.
$20 will provide a FIV/FeLV test
$25 will provide first shots
$60 for a stool sample
$75 will neuter 1 male kitten
$95 will spay 1 female kitten
Donations can be made online, plus VETERINARY DONATIONS can be made directly to our account at Daisy Mountain Vet Hospital. Please call (623) 551-8387 or visit them at 39512 N. Daisy Mountain Dr., Suite #178. Checks can be mailed to Anthem Pets, P.O. Box 74272, Phoenix, AZ 85087. Thank you so much!