Now that you have decided to make homemade pet treats, you can serve your furry friend with healthy
allergen-free pet food. Easy home-made healthy pet treats are palatable and affordable and will deepen
your bond with your four-legged buddy.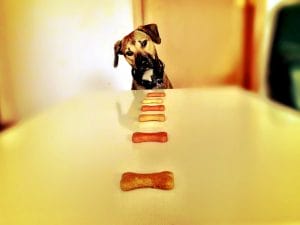 Here are some easy treats for pets:
Peanut butter treat
If your furry pal is crazy for peanut butter, then this simple dog treat recipe is for him. You may want to experiment with a little amount first and then scale the recipe once your pooch approves the treat.Mix 1 cup of flour, 1 egg, and 1/4 cup peanut butter until combined. Add water little by little until it comes together like dough and is easy to roll out. Cut out shapes and bake for about 15 minutes. Let the dog cookies cool down before surprising your furry buddy with the treat.
Sweet potato treats
When looking for easy home-made healthy pet treats, you might want to try out a savory recipe with veggies. Sweet potato is a favorite with dogs. To make sweet potato chips, you will need a sweet potato. Slice them thin using a mandolin. Then pop them in the oven for 2 1/2 hours. Do not forget to flip once halfway through. We are eying at sweet potato dog treats that look dried out and crispy. Let cool before giving these as treats to your four-legged pal. These are a great way for your pooch to get in some of their daily vegetable serving.
Frozen apple treat for dogs
If you are looking for easy home-made healthy pet treats, then it can't get healthier and easier than this. The easy recipe doesn't involve any cooking. All you need is two apples along with 1 cup of skimmed yogurt without added sugar.Core apples and make sure there are no seeds left. Seeds could be toxic. Blend apples with little water and plain yogurt in your Vitamix or Nutribullet. Pour into ice cube trays. A yummy treat is ready to serve to your pooch.Freeze the leftover dog treats for next time.
Bone-shaped biscuits
Your fur baby deserves the best treats, right? Now you can keep them happy with easy home-made healthy pet treats. If your furry buddy loves pumpkin, then these pumpkin ginger biscuits are the best treat for him. Bake a batch of scratch treats with wholesome ingredients that are sitting right there in your pantry. Combine 3 cups of flour with ½ teaspoon of ginger. Take ½ cup pumpkin, 1 tablespoon coconut oil, and 1 egg in a mixer and blend everything together. Mix with dry ingredients. Combine to form a dough, adding 1 tablespoon of water at a time. Roll out into a thick sheet and cut into bone-shaped treats. Bake in a preheated oven at 275 degrees for 2 hours or until the bottom browns slightly. Cool on a cooling rack and the treats are ready for munching for your precious fur baby.