So Many Ways to Help the Animals!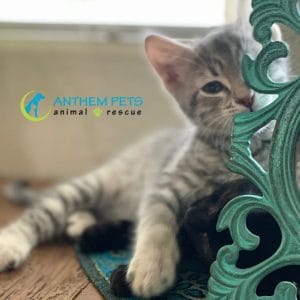 Do you want to help Anthem Pets, but you're not sure how? Click to learn more about Volunteering, Fostering, Donating, Hosting a Fundraiser, and look further below to learn how you can shop and raise money for the animals at the same time!
We also appreciate donations of clumping kitty litter, kitten food, puppy and adult dog food. These items, plus cash and check donations, can be dropped off at the business locations below. We appreciate their help and support!
If you are not able to make a drop off and would like us to pick up your donation please send us an email at Rescue@AnthemPets.org.
Needed items can also be purchased using our Amazon Wish Lists. The lists for dogs, cats, puppies and kittens are updated as needs change, such as adding formula for little ones during the busy kitten season. Please click on one of the images below to see our kitten and puppy wish lists. Thank you for your support!
Donation Drop Off Locations
39508 N. Daisy Mountain Dr., Suite #126
Anthem, AZ 85086
CASH & CHECK donations only.
Open Hours:
Mon-Fri    7:30 am – 6:00 pm
Sat           9:00 am – 6:00 pm
Sun          Closed
41111 N. Daisy Mountain Dr., Suite #115
Anthem Arizona, 85086
(623) 505-7101
Open Hours:
Mon-Fri    8:00 am – 5:00 pm
Sat           8:00 am – 4:00 pm
Sun          Closed
Make your shopping dollars count and show your love for animals by buying cool swag from our Shopify store! Choices include T-shirts, tanks, long sleeve shirts and ball caps. They will make great gifts for the upcoming holidays. Visit our Shopify store today!
Whether you are celebrating a birthday or the holidays, or just buying groceries for dinner there are several ways to help the animals at no cost to you. Please read below about Amazon Smile, Fry's Community Rewards and iGive shopping.
Amazon's charity program,
Amazon Smile,
gives you the same great products and prices while helping the animals. Go to
Amazon Smile
and log in using your Amazon credentials. Select Your Account and look for Your Amazon Charity. Type in and select Anthem Pets Animal Rescue you'll be helping us save more animals.
Be sure to log into Amazon Smile each time you shop!
iGive is an online shopping mall where a portion of each purchase is donated to charity. Participating online stores include big names like Walmart, Best Buy, Petco, Kohl's and Target, and Expedia.
It's a free service, and you never pay more when you reach a store through iGive. To help the animals while you shop, just create your FREE iGive account.
Please Support Our Partners
GrandPaws Pantry provides pet supplies to pets in need at area shelters, rescue organizations and animal assisted facilities.